A new release of our pinp package is now on CRAN. pinp allows for snazzier one or two column Markdown-based pdf vignettes, and is now used by a few packages. A screenshot of the package vignette can be seen below. Additional screenshots are at the pinp page.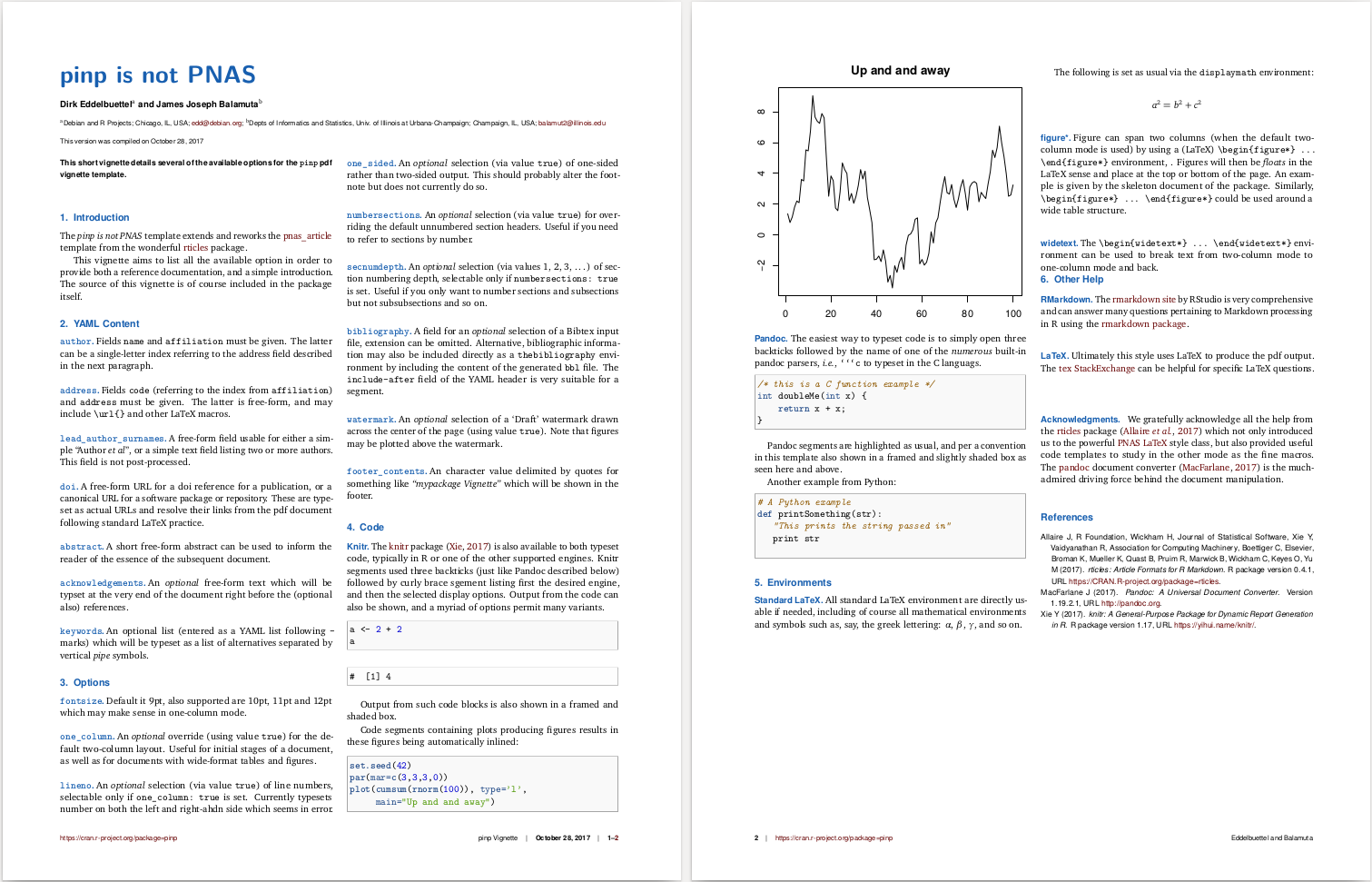 This release was spurned by one of those "CRAN package xyz" emails I received yesterday: processing of pinp-using vignettes was breaking at CRAN under the newest TeX Live release present on Debian testing as well as recent Fedora. The rticles package (which uses the PNAS style directly) apparently has a similar issue with PNAS.
Kurt was a usual extremely helpful in debugging, and we narrowed this down to an interaction with the newer versions of titlesec latex package. So for now we did two things: upgrade our code reusing the PNAS class to their newest verson of the PNAS class (as suggested by Norbert whom I also roped in), but also copying in an older version of titlesec.sty (plus a support file). In the meantime, we are also looking into titlesec directly as Javier offered help—all this was a really decent example of open source firing on all cylinders. It is refreshing.
Because of the move to a newer PNAS version (which seems to clearly help with the occassionally odd formatting of floating blocks near the document end) I may have trampled on earlier extension pull requests. I will reach out to the authors of the PRs to work towards a better process with cleaner diffs, a process I should probably have set up earlier.
The NEWS entry for this release follows.
Changes in

pinp

version 0.0.8 (2019-09-08)

Two erroraneous 'Provides' were removed from the pinp class.

The upquote package is now use to use actual (non-fancy) quotes in verbatim mode (Dirk fixing #75)

The underlying PNAS style was updated to the most recent v1.44 version of 2018-05-06 to avoid issues with newer TeXLive (Dirk in #79 fixing #77 and #78)

The new PNAS code brings some changes eg watermark is longer an option but typesetting paragraphs seems greatly improved. We may have stomped on an existing behavior, if see please file an issue.

However, it also conflicts with the current texlive version of titlesec so for now we copy titlesec.sty (and a support file) in using a prior version, just like we do for pinp.cls and jss.bst.
Courtesy of CRANberries, there is a comparison to the previous release. More information is on the tint page. For questions or comments use the issue tracker off the GitHub repo.
This post by Dirk Eddelbuettel originated on his Thinking inside the box blog. Please report excessive re-aggregation in third-party for-profit settings.